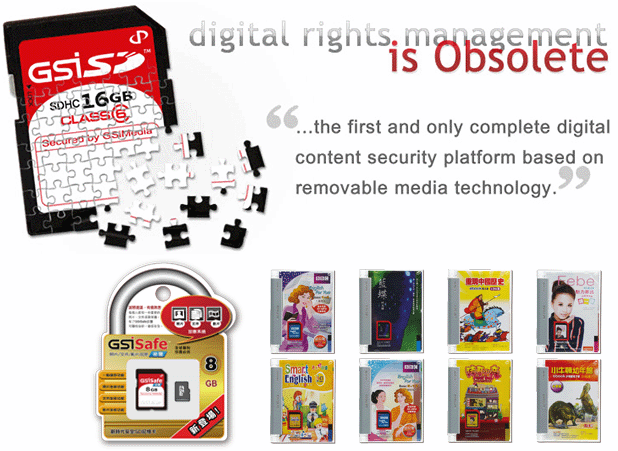 The GSiSD™ Memory Card
Consumers want to be able to consume their movies, books and music on the device of their choosing, whether it is phone, tablet, TV or computer; a reality proven by aggressive rolling out of multiscreen solutions by operators and service providers across the world. At the same time TV and movie content has moved to HD premium content and a 4K future is planned for not far off.
The challenge of premium content anywhere and anytime
This combination of higher definition, more valuable content and need to make that content available across more platforms and devices has resulted in a number of new challenges:
Security – As content becomes more expensive to produce, both studios and then operators and content providers need to make sure it is protected to the highest possible standards at all points end users can get access.


Costs and quality – In order to allow TV Everywhere streaming is essential and the core of how content will be consumed in the future. However, higher definition content requires more bandwidth putting strain on servers and budgets, while 3G networks don't often have the capacity to be able to deliver an always consistent playback experience everywhere.


GSiSD™ Memory Card
The The GSiSD™ Memory Card patent pending solution makes SD cards more secure and in doing so creates complementary business models and services for any multiscreen OTT solution. It preserves all the functionality of original SD cards with the added capability to lock encrypted files using the card's unique PSID, rendering any file transferred or copied out of it to another storage medium completely inaccessible. It is more secure than other physical media like Bluray or DVD and is much more portable as phones, tablets, TVs and computers all support SD.

Improved end user services will attract more customers:
Can watch across all his devices offline without needing to download more than once.
Unaffected by the sometimes variable quality of 3G networks when streaming HD quality content.

Revenue Opportunities:
End user more comfortable to buy as gets to keep physical copy.
Sell SD cards to end users.
Cost saving:
Provides cross platform viewing while saving some of the expensive of streaming.

Features
A controller chip with our embedded patent-pending portable storage identification (PSID) secure agent technology.
Hardware PSID authentication and registration.
Server side file encryption using unique PSID with CA/RA Server to generate the CEK for packager and right object for Jig.
Hardware and software Jig to create the card.
Seamlessly integrated with GSI DRM and GSI Multiscreen and GSI Secure Digital Content Platform.
SDK so that it can be combined with any DRM solution.
Supports up to 64 GB cards.
Usage Scenarios
A users choice of devices is different at different times of day and in different scenarios.
During the work week more likely to want to download and watch on a notebook.
At the weekend away in the mountains or where coverage is not so great will just take a tablet.
Back home in the evening wants to watch on a smartTV.
GSISD allows this to happen easily through storage in one card.
UPSELL – User already has the movie or TV show stored in a card and is happy. All he has to do is login his account and change the rental to a purchase.
It offers tremendous value to a range of different content sellers:
Packaged media: Content providers can pre-load into our SD cards and sell as a compliment or instead of Bluray

Electronic sell-through: Provides greater incentive to users to buy in the form of electronic download as they have a way to store on external media.

Rental and subscription services: Sell-through content, rental content, and subscription service content can be recorded all in one medium.

Digital Copy: Content providers can make a new business model by allowing users to copy Blu-rayTM content to Licensed Media for a reasonable price.

Content vending machines, kiosks: now have way to sell take away secure content.